Mission Statement
The Pediatric Interim Care Center (PICC) provides immediate, short-term medical care between hospital and home for medically fragile infants suffering from prenatal drug exposure at a savings to the taxpayers of Washington State. PICC also provides educational and support services to the community in the recognition and management of substance abused infants.
Mission Objectives
Provide care by a qualified nursing staff under the direction of pediatric medical directors.

Offer a format of withdrawal that combines high quality medical management with therapeutic handling in a homelike atmosphere.

Train and support families in the care of infants to help ensure long-term success.

Coordinate with the health community and government agencies in evaluating the incidence, treatment, and long-term follow-up of high risk infants.

Use private donations, grants and volunteers to offer our state and local communities a low-cost alternative to traditional hospital care.

Maintain an awareness program to inform the community about the dangers of drug abuse during pregnancy and the implications of caring for medically fragile infants.

Be a strong advocate for the children.
Values
•Professional •Respectful •Non-judgmental
•Confidential •Nurturing •Diverse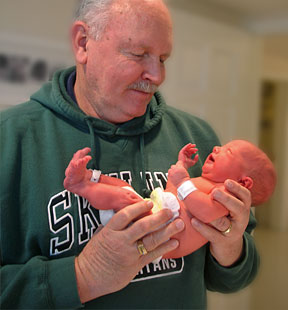 PICC Board member with one of our babies.
All graphics & content © 2018 Pediatric Interim Care Center, The Newborn Nursery.
All rights reserved.
If you have any questions or comments about our website, please contact nursery@picc.net